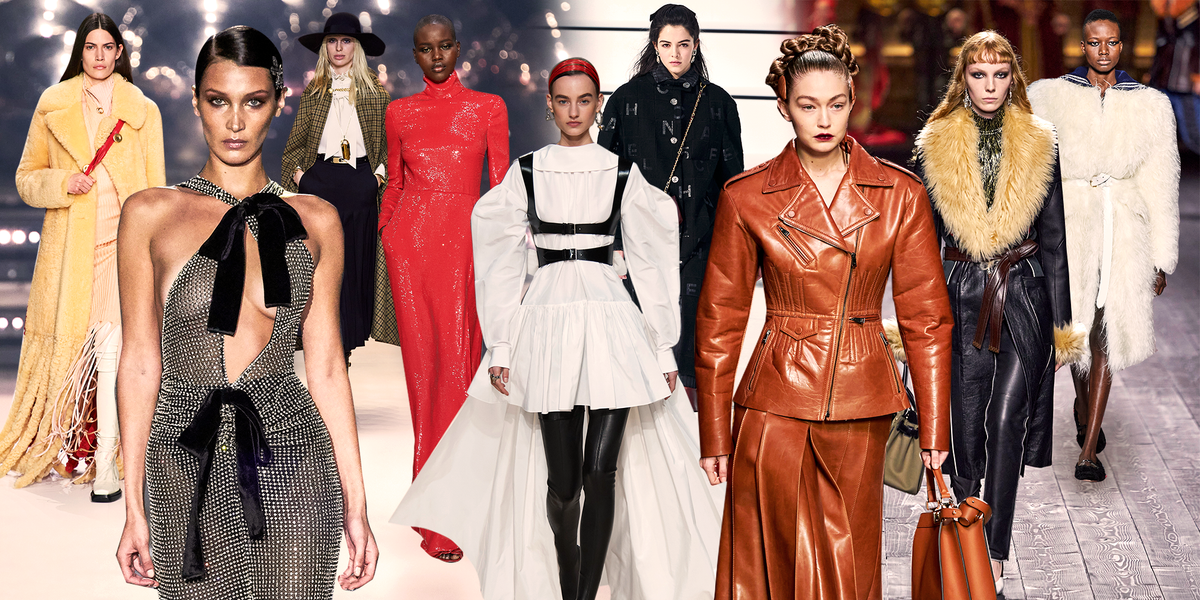 Design by Ingrid FrahmImaxtree
White Wedding

Design by Ingrid FrahmImaxtree
The bridal market is booming, and it seems ready-to-wear designers are getting in on the action. Woe is the fashion bride who comes to face with a sea of strapless faille without a bias-cut or statement-making bodice among them—but no longer. In the hands of Brandon Maxwell, with a sleek two-piece bandeau number; Tom Ford, with a one-shoulder body-hugging lace gown; and Khaite, with a cutout, long-sleeve statement dress with an open back, among many other standouts, almost all fashion girl bridal problems are solved.
Tom Ford, Givenchy, Khaite, Paco Rabanne, Richard Quinn, Prabal Gurung, Simone Rocha, Brandon Maxwell, Giambattista Valli
One-Shoulder Ruched Silk-Jacquard Gown
Les Rêveries net-a-porter.com
$795.00
SHOP NOW
Putting on the Glitz

Design by Ingrid FrahmImaxtree
It can sometimes seem that we've been living in the era of minimal neutrals. Track the amount of beige Instagrams with 200K-plus followers for proof. But perhaps maximalism isn't dead if all the kira kira-level sparkles coming down the fall runways are any indication. Morphing into a human disco ball is the number one cure for situational sadness, according to experts. Marc Jacobs, Erdem, Balenciaga, and Oscar de la Renta agree. A girl needs something to dance in after all.
Balenciaga, Oscar de la Renta, Givenchy, JW Anderson, Tom Ford, Off-White, Paco Rabanne, Versace, Marc Jacobs
Heritage GG Lamé Mini Dress
Gucci farfetch.com
$3,500.00
SHOP NOW
Big Fur Energy
Design by Ingrid FrahmImaxtree
The bigger the fur, the closer to God? We don't think that's how it goes, but maybe there's some truth there. With our unpredictable weather patterns, we have no way of knowing if next season's fall and winter will be all sunshine and heat spikes or blizzards and polar vortexes. But if it's the latter, we'll be well prepped in some seriously statement-making furs. Designers got creative with what they're spinning them out of—be it knits that appear like furs, real fur that's sustainable, or the latest in faux inventions—but we're ready to make an entrance in the likes of Celine, Miu Miu, and red Saint Laurent.
Miu Miu, Celine, Valentino, Michael Kors Collection, LaQuan Smith, Isabel Marant, Longchamp, Giorgio Armani, Stella McCartney
Mona Belted Faux Fur Coat by Apparis
Apparis modaoperandi.com
$280.00
SHOP NOW
The Merry Widow
Design by Ingrid FrahmImaxtree
It seems so trite to proclaim that black is back. Let's be honest, New York's favorite hue has never truly fallen out of favor. It is being elevated to first look out status for the first season in many though, and it's doing so with a definite degree of capital-D drama. That giant face-obscuring hat at Givenchy, the sweeping ruffled collar at Schiaparelli, that neckline with that veil at Herrera, not to mention Oscar de la Renta's tulle bodice—we don't know whether she's the merry widow holding onto all her cash in style or the ultimate "showing up to your ex's funeral" meme, but either way we really like her.
Givenchy, Carolina Herrera, Off-White, Vera Wang, Oscar de la Renta, Brandon Maxwell, Rodarte, Brock Collection
Jacqueline Silk-Satin Maxi Dress
La Collection modaoperandi.com
$740.00
SHOP NOW
Intimate Apparel
Design by Ingrid FrahmImaxtree
Usually, we associate dour times with covering all the way up—it's the hemline index, folks, and it's real. So let's take all of these lingerie-inspired looks as a sign of serious optimism. Dior, Dolce & Gabbana, Fendi, and Mugler are all about sheer black underpinnings as outerwear, and we're here for all the body positivity. Saint Laurent paired black latex with a bra, and we could see Bella Hadid heading out for a night on the town in it, while others went the bra top route for a subtler nod to boudoir.
Christian Dior, Dolce & Gabbana, Fendi, Lanvin, Mugler, Rodarte, Tom Ford, Saint Laurent
Cotton-Blend Lace Bustier Top
Alexander McQueen net-a-porter.com
$1,465.00
SHOP NOW
Ivy League
Design by Ingrid FrahmImaxtree
From New England sailor girls at Gucci and Miu Miu to Burberry's collegiate sweaters, a great gold-button navy blazer from Saint Laurent, and yachting stripes at Versace, there's a newfound appreciation for classic Americana style creeping up on the Fall 2020 runways. She's all about the navy, white, and stripes. A good tailored jacket need not be shrunken or oversized. And while we have no illusions about the good old days, we do appreciate a little prep in our step.
Burberry, Christian Dior, Gucci, Max Mara, Miu Miu, Ports 1961, Saint Laurent, Versace, Tory Burch
Embellished Striped Wool Cardigan
Miu Miu modaoperandi.com
$3,800.00
SHOP NOW
Red Dress Diaries
Design by Ingrid FrahmImaxtree
Not since the heyday of Valentino red in the '90s has the color felt more relevant. Of course, Pierpaolo Piccioli gave us his take on the brand's signature shade on a stunning, glimmering red turtleneck gown. Rodarte went sheer and French dotted, and Bottega Veneta gave us the perfect louche evening gown, while Balenciaga's super-form-fitting red dress-pant combo was somewhere between Madame Grés and an especially fierce ballerina. In other words, there are many ways to get in on the red dress look this season, and none of them is subtle.
Valentino, Alberta Ferretti, Carolina Herrera, Christopher Kane, Bottega Veneta, Balenciaga, Mugler, Rodarte, Giambattista Valli
Pleated Poplin Maxi Dress
Proenza Schouler modaoperandi.com
$1,495.00
SHOP NOW
The Whit Stillman Effect
Design by Ingrid FrahmImaxtree
Whit Stillman's seminal film, Metropolitan, will forever stand as a love letter to the Upper East side '80s girl. Not all '80s references are created equal after all. She of the big sleeves, hair bows, and taffeta is Stillman's '80s lady. She's Blair Waldorf's ultimate inspiration and maybe her aunt. She's oversized Chanel coats and cross-body bags. She's tweedy red jackets with velvet lapels. She's back and better than ever.
Chanel, Isabel Marant, Loewe, Self-Portrait, Dolce & Gabbana, Alessandra Rich, Proenza Schouler, Versace, Saint Laurent
Psychedelia Belted Crepe Blazer
Aje modaoperandi.com
$475.00
SHOP NOW
All the Flesh Tones
Design by Ingrid FrahmImaxtree
From a leather biker jacket and pleated skirt in caramel at Fendi to a long-sleeve column dress in beige sequins at Bottega Veneta to a chocolate-brown vinyl bodysuit at Balmain, designers gave a whole new meaning to going nude for the fall 2020 season. Let's call this the Fenty Beauty effect, which casts a wide net, offering every beautiful shade of every beautiful person. The runways showcased a range of complexions that—and here's the real clincher—covered up the body. They gave the illusion of flesh without actually showing it, communicating that, at least in this instance, fashion is really skin deep.
Fendi, Akris, Altuzarra, Balmain, Bottega Veneta, Christopher Kane, Alexander McQueen, Jil Sander
Sea Urchin Textured-Cotton Midi Dress
Marysia net-a-porter.com
$529.00
SHOP NOW
Such a Tassel
Design by Ingrid FrahmImaxtree
There's no denying that wearing fringe is tricky. With ample amounts of loose-hanging tufts moving and flowing in every direction, it is not the best option to wear from nine-to-five—hence why it is often relegated to glitzy soirées and costume parties. Designers this season, however, took the hassle out of the tassel. For example, Bottega Veneta created chucky cords at the end of teddy coats, Etro and Zimmermann placed them on elegant ponchos, Gabriela Hearst lined them on suede trenches, and Paco Rabanne fastened them to modest wool dresses. Of course, there were titillating offerings at Christian Dior and Area (a fashion season wouldn't be complete without them), but the overall message was that all could benefit from fringe throughout the day.
Bottega Veneta, Nanushka, Christian Dior, Salvatore Ferragamo, Gabriela Hearst, Prada, Jil Sander, Area
Fringe Gathered Leather Shoulder Bag
Bottega Veneta net-a-porter.com
$2,800.00
SHOP NOW
Strength in Arms
Design by Ingrid FrahmImaxtree
Pronounced shoulders convey fortitude, control, and chutzpah. But for the fall 2020 season, romance was added into the mix, and this primarily came in the form of mutton sleeves. Also known as the gigot sleeve, the style delineates voluminous shoulders that taper down the arm. It is typified by queens of England, Disney princess, real-life princesses (à la Princess Diana's wedding dress), Gibson Girls, society swans in the '30s, and the oeuvre of Christian Lacroix. All this speaks to a bygone era, when glamour and fantasy were the crux of the fashion industry. The modern-day versions, though, are sleeker and more structured (ribbed sweaters at Isabel Marant, camel dresses at Balmain, shimmering blouses at Christopher John Rogers, and tweed jackets at Chanel), but imbue a wistful vibe nonetheless.
Alexander McQueen, Acne, Christopher John Rogers, Isabel Marant, Dries van Noten, Chanel, Etro, Marni
Lady Cropped Cold-Shoulder Cotton-Poplin Top
Orseund Iris net-a-porter.com
$595.00
SHOP NOW
Plaid About It
Design by Ingrid FrahmImaxtree
It's a mad, mad world, and a great way to overcome it is with plaid. The exuberant pattern has long been part of fashion's vernacular, seeing itself in varying degrees on the runways season after season—especially at Burberry, its grandest proponent. But for fall 2020, other labels took the ubiquitous motif for a spin, casting it onto pieces that exemplify each of their aesthetics. Marine Serre featured it on framed double-breasted coats over a bodysuit, Celine had it on cool capes, Maison Margiela added a woolly lining, Proenza Schouler went for edgy peacoats, Chloé stuck to the '70s, and Victoria Beckham opted for sleek day dresses covered in the print. There is dynamism attached to wearing plaid that isn't as flamboyant as other prints. And in troublesome times, we could use some of that energy.
Celine, Burberry, Chloe, Hermes, Maison Margiela, Lanvin, Tibi, Sacai, Roberto Cavalli, Victoria Beckham
Checked Wool Blazer
Prada modaoperandi.com
$2,980.00
SHOP NOW
All the Trimmings
Design by Ingrid FrahmImaxtree
Fashion loves to revisit prevalent styles from the past and make them new—and fall 2020 was no different. Case in point: Many designers presented a certain type of coat that harks to the '70s, a decade that was on the cusp of bohemia, entering glam rock, and all about disco. Indeed, all these characteristics exemplified the chic topper at the presentations of Louis Vuitton, Balenciaga, A.W.A.K.E. Mode, Saint Laurent, and Marc Jacobs. They all showed overcoats with long, sleek silhouettes that were punctuated with oversized collars made of fur or shearling. Still, each stamped their signature to the groovy style, giving their designs a modern-day lift with interesting fabric choices and colors.
Louis Vuitton, Tod's, Coach, Saint Laurent, Miu Miu, Loewe, Chloé, Marc Jacobs
Belted Cotton-Blend Gabardine Trench Coat
Boyarovskaya modaoperandi.com
$820.00
SHOP NOW
This content is created and maintained by a third party, and imported onto this page to help users provide their email addresses. You may be able to find more information about this and similar content at piano.io